CLICK HERE to see all my feature INTERIOR DESIGN INSPIRATION!
This is such a fun, sassy, absolutely ADORABLE little girls room.  My love for Interior Design runs in the family, and my sister Amber has an incredible eye for style, design, and all things cute!  This is her daughter Averie's bedroom, and I just can't get enough of the simple, yet sassy color scheme.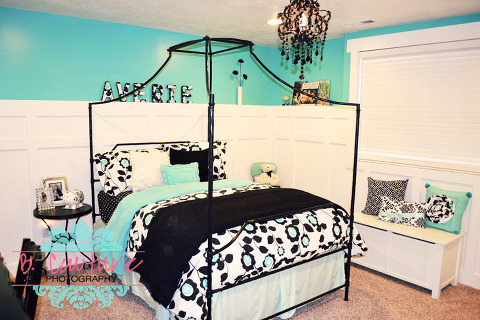 I adore the cute high gloss black rattan chair featured below.  Amber found it at a yard sale of course, and with a coat of spray paint, it's good as new and fits perfect in this room.
The beautiful, simple white wainscoting bring sense of class to the room.  It's modern clean lines give the walls a sense of height without being too busy.  It also breaks up the wall very nicely.  The touch of blue above is just enough to pop without overpowering the room…Love it!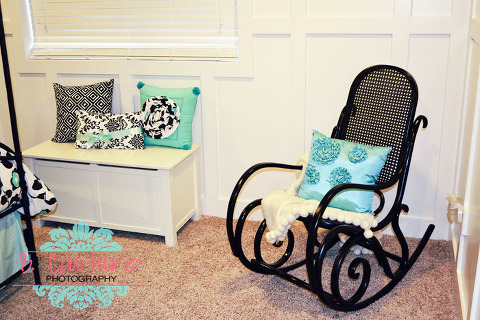 The black desk is another yard sale find.  It is so cute and vintage, and it really softens the room and brings in a sense of whimsy!  I love that everything in this room is either white, turquoise, or black.  As I always say, less is more!  The simple color scheme really draws your attention without being overbearing!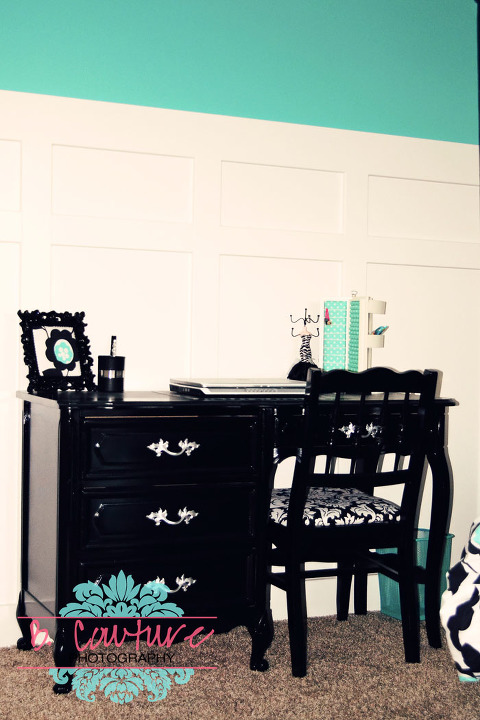 This is such a great wall display.  Photos are of course my favorite thing to accessorize with.  The simple black gallery frames are perfect in this room!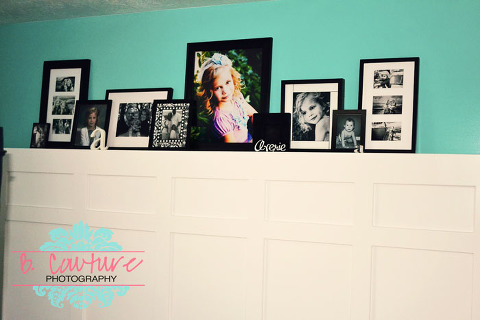 Amber made Averie's name by covering cardboard letters with fabric.  All it takes is some cute fabric, cardboard letters (can be found at Roberts Craft), and a hot glue gun….PERFECTION!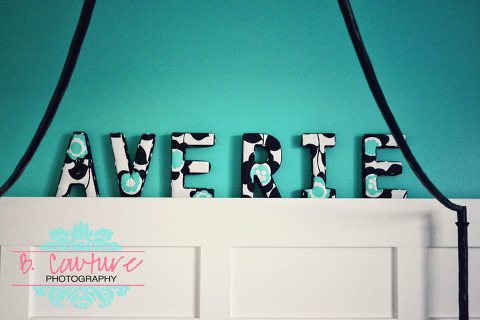 I hope you enjoyed this weeks design inspiration!
Thanks to my sister Amber Olsen for sharing her fun ideas.