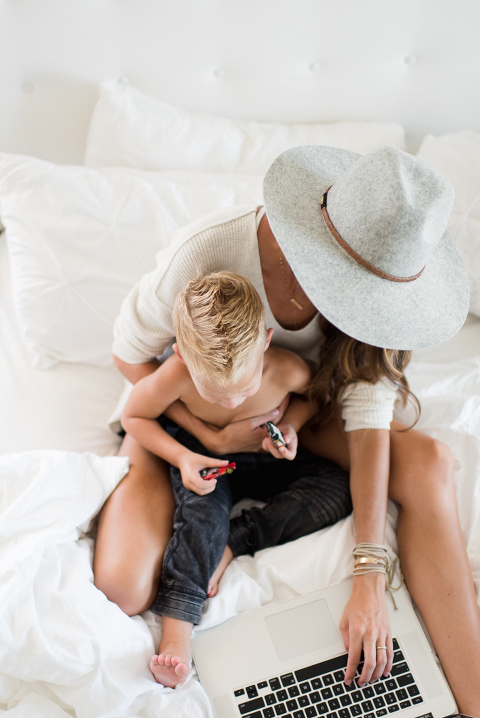 This weeks post is something I am very passionate about.  Anyone who has mentored with me knows that specializing, knowing your limits, setting boundaries, and sticking to a schedule is something I really stress to my students.  I feel that overworking yourself as a photographer takes away from your creativity, and the ability to always give each and every client the best of you.  As a photographer, when you are in a session, it's almost as though you are on stage performing.  You are always expected to be at your best and to create beautiful artwork.  It's hard work and honestly, can be very exhausting especially when you're dealing with newborns and young children like I do.  I feel that if you are overworked, exhausted, or living in complete chaos, it's easy to lose your creativity, and in my opinion that is not fair to your clients.  So, after 7 years of working full time as a photographer, I have finally learned when to say "no" in order to succeed in my career and personal life.
 I feel like most photographers go through this process in their career.  They first find their love for photography and are eager to learn everything they can.  They read, take workshops, shoot what inspires them, and develop their skills.  Before they know if they're running a photography business and booking clients.  A few years in, they have begun to develop their style and have defined themselves as a photographer, and as a result, they have started booking more and more clients.  Isn't that what we are all going for when we start our photography career?  It is so exciting to know that people appreciate and love your work and are hiring you to capture such special moments in their lives.  It's an amazing journey, and it feels SO good!  But, before you know it, you start drowning in editing, e-mails, galleries, and cannot keep up.  Your kids only know the back of your head, you never go to bed with your husband, your house is in complete dismay, and your clients are not happy because you aren't able to give each and every client the attention they deserve.  Your soon overwhelmed and living in chaos.  I am sure many photographers out there know exactly what I am talking about.  I have been there, and though the success felt SO good, for some reason I wasn't happy.  I was brining in a good income, but didn't have time to enjoy it or my family.  Finally, I had to ask myself, what is this all about and is it worth it?
Fast forward a couple of years, and I can now say I live a much more balanced life.  I am truly happy, I feel like I am able to keep up with my responsibilities at home and with my clients, and I also have time for myself.  I would like to share with you some of the things I have done in my life that have helped me manage my business and give each and every one of my clients the full experience without it overtaking my whole life.
#1.  HAVE A SET MEANS OF COMMUNICATION WITH YOUR CLIENTS.  Between text, phone calls, e-mail, Facebook, Instagram, and all the wonderful ways to stay social these days; communicating with clients can become a full time job in itself!  Here is what has worked for me.  I always encourage clients to E-MAIL ME.  I don't give out my number, and I have trained my clients the best way to communicate with me.  For me, e-mail is SO much easier.  I can type a lot faster at my computer, and by having all communication written down, I can refer back to them when necessary.  And what's even better, a lot of my booking e-mails are prewritten which saves me so much time.  Now, this is a lot harder than it may seem.  Yes, clients do reach out to me in other ways, which is fine.  I just either ask for their e-mail and get back with them there, or I have a prewritten reply that asks them to e-mail me for fastest response.  Then, I make sure I respond regularly via e-mail, and before you know it, they get a hang of the routine.  If clients want to talk with me on the phone before-hand, that's totally fine, I just ask them to leave a number and I arrange a convenient time for us to talk.  I know there have been times I get calls when I am running my kids to activities and it TOTALLY throws me off.  I always feel bad because I know I sound caught off guard, but with my crying 4 year old in the back seat and my girls fighting, I am caught off guard.  I don't want my clients to be able to hear those naughty little nuggets of mine in the back seat.  That is why I have office times and the car just isn't a great office for me.  I also find this tactic helps me avoid texts at 10:30 p.m. and allows me to keep work in my office where it belongs 🙂
#2.  KEEP A CONSISTENT SCHEDULE.  Set days of the week that you take shoots, and set days of the week that you have office/editing time.  Consistency is the key to a successful, organized life in my opinion.  If your schedule is all over the place, how can you keep up?  I have 2-3 days a week that I take shoots, and I try REALLY hard to stick to those days.  It works so much better for me that way.  I often shoot back to back, and I make the most out of those days.  Set your studio days/times and make it known on your booking page.  My info page gives the days I shoot, and if clients need special arrangements or a weekend session, I do charge extra.  My shooting days are typically Monday, Wednesday, + Thursday mornings at 10:00 a.m.  If I do evening shoots, I set aside Thursday evenings.  That gives me a couple days off during the week to edit and catch up on the rest.  Everyone's life is different, but this is what works for me.
#3.  KNOW YOUR LIMITS.  This is something I really want you to think about.  How many sessions are you able to take in a week/month and still feel good at the end of the week.  What does it take to sustain your family/business, but not take over your whole life at the same time.  I encourage you to really run your numbers and learn how to work smarter, not harder.  Find ways to get help with the nitty gritty things so you are not spread so thin.  Find other means of making income outside of just shooting sessions if needed.  Whether it be client prints, albums, or mentoring.  Think outside the box.  One thing that has worked for me is that I have hired and trained an apprentice who does the skin touch up for me.  I control most of the editing, but she comes and spends hours upon hours removing zits off those cute babies faces.  Blemish removal and skin touchup is something in my opinion that is easily taught and doesn't take away from the editing I do.  It's still my work, my color adjustments, my edits; but is it really necessary for me to spend hours removing blemishes?  That was one thing that opened up a lot of time for me.  I also only take 4 sessions per week.  NO more than 4, no matter if it's the busy season, or if someone begs.  If I have a lot of newborns on my schedule I actually only schedule 3 per week.  Chances are that those newborns will all come at once and I do not want to be photographing them all day every day for a week straight.  That's not fair to my clients.  Their baby is only a newborn once, and they are hiring me to do the best work I can.  I stick to my limits not only for me, but for my clients.  This is how I maintain happy clients, keep to my turnaround schedule, and am able to keep up with communication as well.
#4.  SPECIALIZE.  This is one of my favorite.  If you have gotten to that place in your business where you are getting enough bookings and feel overwhelmed and burnt out, this is a great time to specialize.  Really reflect on what type of photography you love most, and focus primarily on that.  That will naturally cut down your schedule and help you to say no.  Say no to those things that don't speak to you or inspire you, that is ok.  I am a specialized studio photographer, and I primarily photograph newborns.  Now, I do sometimes take outdoor sessions for those clients who I have photographed for years, or for maternity sessions; but other than that, I am a studio photographer.  The reason for this is that 1.  I LOVE interior design and designing studio setups 2.  I love the fresh light and white 3.  My kids are busy every night of the week, so I cannot shoot in the evenings.  4. I actually really like my husband, I like spending time with him. Shooting in the studio in the mornings leaves my evenings open for what matters most to me.
One way to specialize is to only show the type of sessions you want to shoot.  Maybe you still need to sneak in a large family shoot here and there to pay the bills, but don't show those shoots.  Only show off what you want to shoot.  That is the quickest way to specialize.  Specializing also doesn't have to be specific to a genre of photography.  Maybe you specialize on a look.  That is what I have done.  I have specialized on that fresh, white, light, natural light studio look.  I primarily take newborn sessions, but I also take maternity, boudoir, child, and the small families here and there.  These people are coming to me for the look and studio experience I provide.  I absolutely do not book events, large family sessions, or weddings.  So when you are specializing, don't feel like you have to narrow it down to 1 thing like newborns or seniors.  Think outside the box.
#5.  LOVE YOUR CLIENTS.  Love the clients you have and create lasting bonds.  Returning clients are the best clients.  They get you, they know your process, policies, and because you know them and their family, it's easier to capture their personalities.  I can honestly say my clients leave a friend.  I just adore them, their families, and I love having them come back each year.  Because they know how I run my business, they're easy to work with.  There has been an expectation setup from the beginning and they respect me, my boundaries, policies, and the way I run my business.  Train your clients by providing them with your procedures and policies from the beginning.  And, when they come back, it re-assures me that they like what I do!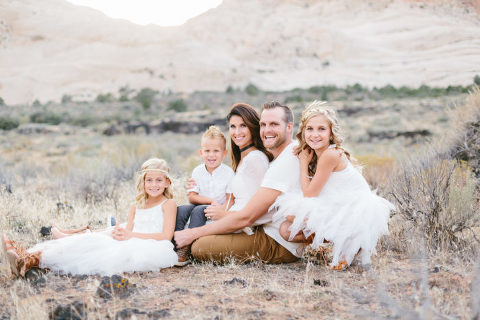 I couldn't resist including a pic of my family.  These people are the reason I do what I do.  Honestly I work so I can give my kids the life my parents gave me.  I want them to have every opportunity in the world and the ability to follow their passions like I have.  Without them, there wouldn't be as much meaning behind what I do.  These are my people, I love them, and they are my happiness.
I would love to hear your comments and answer any questions you may have!
XO,
Chelsy B, B Couture Photography