CLICK HERE to see all my INTERIOR DESIGN INSPIRATION!
I hope you are enjoying your weekly dose of INTERIOR DESIGN INSPIRATION!
 I feel your home should be your haven, and it should reflect who you are and what you love!  With a little time, and creativity, anything is possible!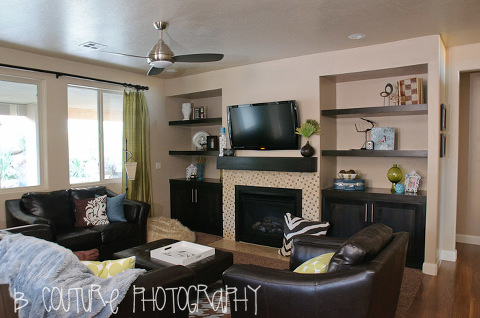 Time for more DESIGN INSPIRATION!  This is the great room and heart of my home.  I love this room and feel that it really reflects me and my design style.  I love clean lines and contemporary pieces, but I also like my home to feel comfortable and welcoming at the same time.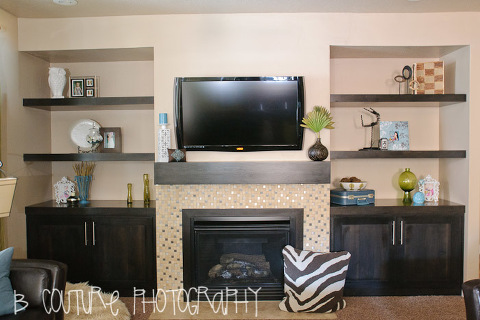 When we designed the home, we wanted built-in cabinet shelving without the extremely high cost, so instead of having full built in cabinets surrounding the fireplace, we lowered the cost by doing floating shelves.  They are the perfect, simple touch at a fraction of the price.  This isn't a very large room, and by having the shelving tucked back in, we used the most of our available space without overcrowding the room.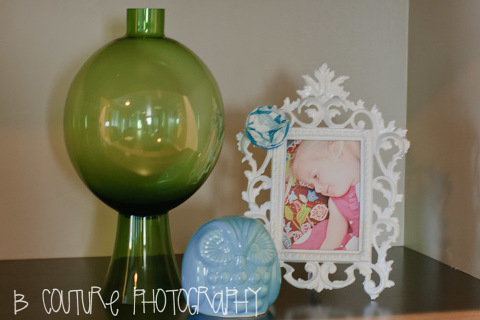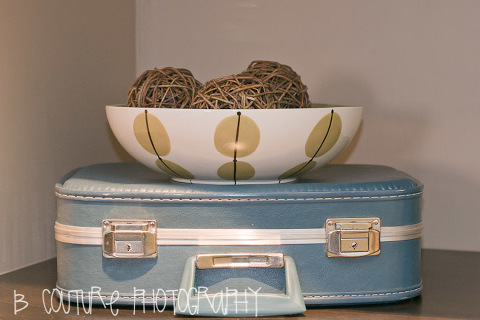 Accessorizing my home and moving things around is one of my favorite things to do.  I am always re-arranging things throughout my entire home.  A number of the pieces on display where found at antique stores, consignment shops, and yard sales.  I love mixing those simple store bought items with unique vintage finds.  It's fun to have one of a kind pieces that can't be bought at just any retail store.  Many people are scared to mix styles, and I would say it's my favorite thing to do!  Though my style is very contemporary, those vintage pieces bring a little personality into the space.
One of my favorite finds would have to be the little white picture frame.  I found them on craigslist and had to have them.  They are solid bronze, antique victorian frames from the 1850's, and yes, I spray painted them high gloss white!  High gloss white is my current favorite spray paint color.  It can turn any old piece into something new and modern!  My dad would die if he knew I spray painted valuable antiques, but I love them and that's what counts!
This is a close up of my fabulous fireplace!  I am in love with anything metallic, and the stainless steel accents take this fireplace from boring…to glamorous!  Now, you can buy sheets of tile that already have the stainless steel accents already inset, but they are EXPENSIVE!  I had an easy, yet tedious solution…make it myself!  It only too a couple of hours, and it saved me a lot of money!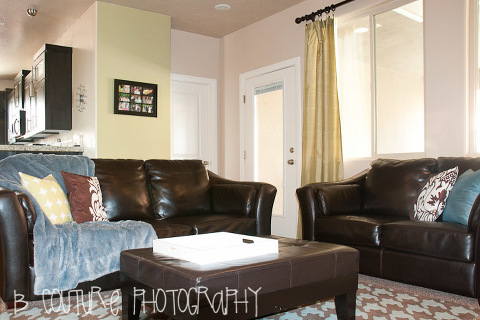 I had to show a better view of the cutest rug in the whole world!  I love the timeless, vintage feel this rug brings into the room.  I found it for only $125 at a Discount Store!  You can't beat that for an 8×10 high quality, BEAUTIFUL rug!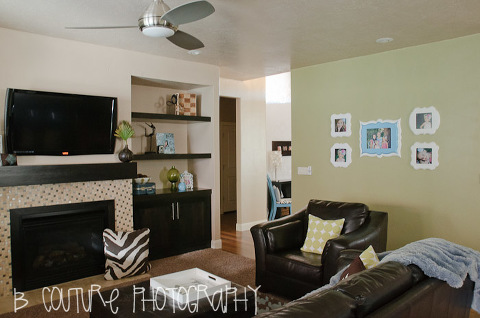 I am sure you can't help but notice the FABULOUS frames on the wall.  These are the most unique, adorable frames I have ever found!  They are from Sweet Water Frame Co., and I will now be selling them to my clients!  They are such unique frames, and such a fun way to showoff your family photos.  They have so many styles, and colors to choose from.  The options are endless!  Stay tuned for more info, and for a GIVEAWAY and chance to win your own Sweet Water Frame from B. Couture Photography!
I hope you enjoyed this weeks Interior Design Inspiration!  If you have a room that you would like to share, contact me @ chelboucher@aol.com!