Between school starting, adding on to our house, and everything else that's been going on, it's been a little crazy at my house!  I have been wanting to actually decorate my laundry room since I moved into my house 3 years ago, so amongst everything else, I found a little time to add a little spunk to my boring beige laundry room.
I got this FABULOUS stencil from ROYAL DESIGN STUDIO and I knew it was the perfect touch to a boring room.  I used their LARGE ENDLESS MOORISH CIRCLES stencil, and I couldn't be happier with the results.  I have been going back and forth on what color to do, but in order to keep things simple, I decided to match the white doors and base in the room.  It's subtle, modern, and dramatic all in one!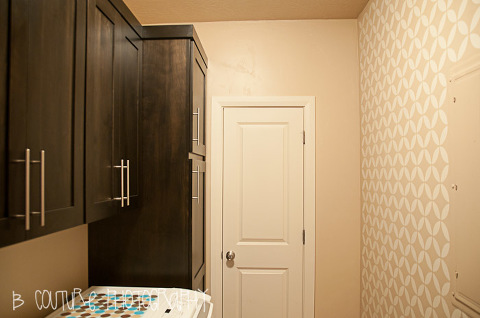 Now that the wall is complete, it's time to decorate!  I originally wanted to do grey and yellow in the room, but because there was already so many warm beige colors in the room, I decided that probably isn't going to be the best approach.  I am going to bring in some black and white accents to pop off the beige and tie into the dark cabinets.  It'll be the perfect modern, yet classic laundry room!  I can't wait to show the finished product.
Be sure to check out ROYAL DESIGNS STUDIO!  They have so many FABULOUS stencils to choose from!
CLICK HERE for step by step stenciling instructions!
Check out some more fun Laundry Room Inspiration…
I love this laundry/mud room from Look Linger Love!  It has a great contrast of white and black that looks so crisp and clean!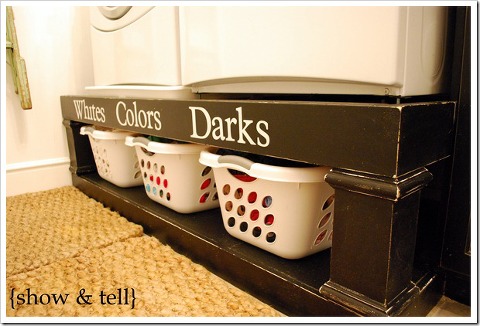 I thought this was such a great idea from Show and Tell!  Most laundry rooms are very small, so what a great way to use all the available space!
I love this soft blue laundry room, it just might be my favorite color EVER!  It's just so fresh and clean 🙂
I hope you enjoyed this weeks Interior Design Inspiration!  I can't wait to share the finished results of my Laundry Room makeover!
CLICK HERE to check out more Interior Design Inspiration from B. Couture Photography!