CLICK HERE TO SEE ALL OF MY WEDNESDAY INTERIOR DESIGN INSPIRATION!
I have been eager to do some kind of wall treatment in my dinning room, but couldn't decide what to do!  I wanted to do something unique, jaw-dropping, yet subtle at the same time.  When I came across Royal Design Studio's FABULOUS stencils, I knew it was the perfect touch to add drama to my formal dinning room.
Here are the results…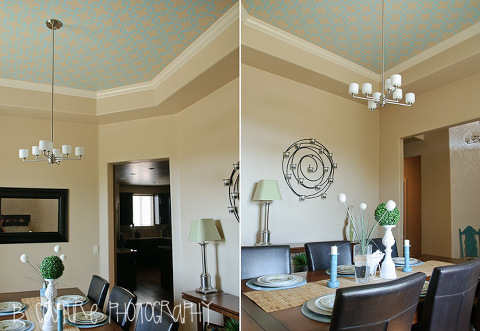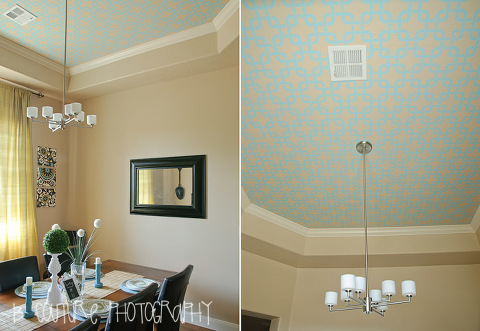 I have a 12′ coffered ceiling in my dinning room, and it framed out the design perfectly!
We added crown molding to the edges to give it a perfect, finished look!  I couldn't be happier with the results!  I chose Royal Design Studio's Large Linked-In Allover Pattern, which was the perfect modern compliment to my simple, yet whimsical dinning room.  The stencil was a little tedious, especially since it was on a 12′ ceiling, but it was easy to use, and they provided great straight-forward instructions.
Here's how it was done…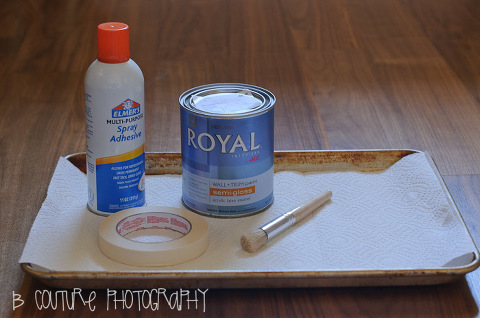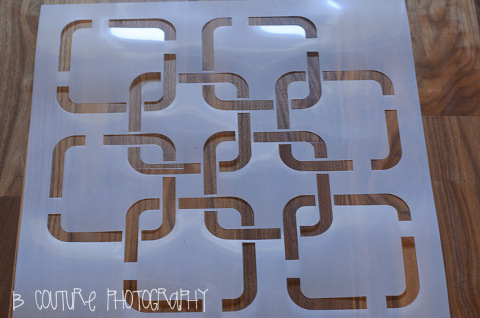 This is all took to do the project, we'll besides scaffolding and my handsome husband.  We got the Acrylic Base paint from Ace Hardware in a Semi-Gloss sheen.  Our walls are painted in a satin sheen, so we chose semi-gloss so the pattern would pop.  We used the Elmer's Spray Adhesive on the back of the stencil so it would stick to the ceiling.  We sprayed the adhesive every other time we used the application so it would stick and prevent the paint from bleeding.  I was worried about it bleeding because of the texture of the ceiling, but by using the stencil brush instead of a roller, we had no problem.  I would recommend using Elmer's Spray Adhesive because it leaves less residue.  We purchased the stencil brush from Ace hardware as well, but they can be purchased through Royal Design Studio too.
Here's is the hero of the day!  My husband spent a long time brushing on each sqaure of the pattern.  It was very tedeous, but I must say, the results are AMAZING!  Thanks to Royal Design Studio for the fabulous stencil and the opportunity to try out your great product.
HERE'S ONE MORE LOOK AT THE RESULTS…FABULOUS!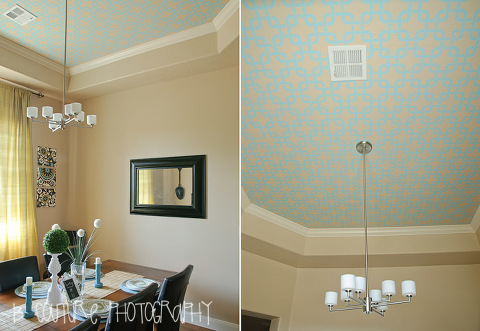 CLICK HERE TO SEE MORE PICS OF MY DINNING ROOM AND FRONT ENTRY!