You will love this weeks dose in Interior Design Inspiration!
CLICK HERE to see all my feature INTERIOR DESIGN INSPIRATION!
It's time for some more Wednesday Interior Design Inspiration!  I have been out of town this week visiting my family, so I chose another favorite room from my sister Amber's house.  She has such great style, and such a beautiful, classic home.  This is the front room in her house.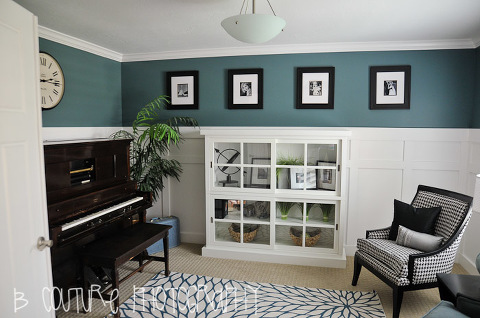 I love the Pottery Barn black and white gallery frames in this room.  The simple symmetry is just perfect!  I also love the timeless touches in this modern room.  The old antique piano is such a perfect mix with all the modern lines and contemporary colors.  It's a great mix of  old and new.  The vintage suitcase and hounds tooth pattern bring in just enough vintage touches to make the piano work.
Many people question if it is okay to bring in different colors, or other styles into a room.  I think it's great to mix styles and colors, and I feel that it really makes for a more interesting space.  My suggestion when bringing in a new element, style, or color into a room is to always bring in at least 3 cohesive items or colors.  For example, this is a very modern room, but by having 3 items that are more vintage, the piano works.  The paino would look out of place if it weren't for the classic pattern chair and vintage suitcase.