I LOVE LOVE LOVE planning for parties, and of course there is no better excuse for a great party than a Birthday Party.  My daughter Mya just turned 3, and since she is in LOVE with Barbies, we had to throw a Barbie party.  I did a Classic Barbie party and used the Barbie Silhouette as our inspiration.  Check out our photos of fun decor!
This is the fun little Party Invitation that I made.  Of course we had to take some FAB photos of Mya for they party!
Here is some of the fun decor!  Thanks to my best friend in the whole world Kat Bently for making the cake and yummy treats!  Anyone who knows me knows that I am NOT a cook in any way, luckily my BF is!  She did such a great job, and they where yummy!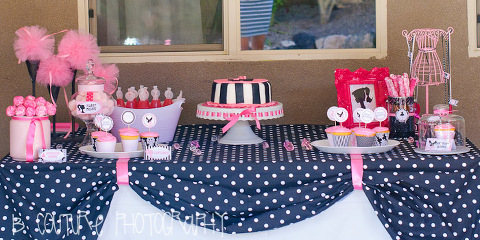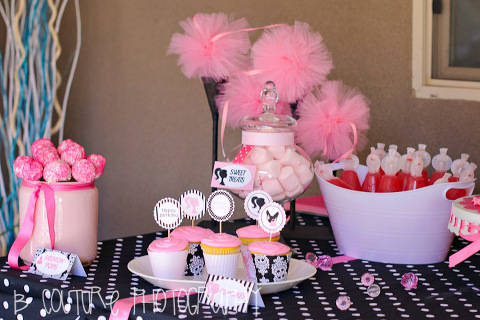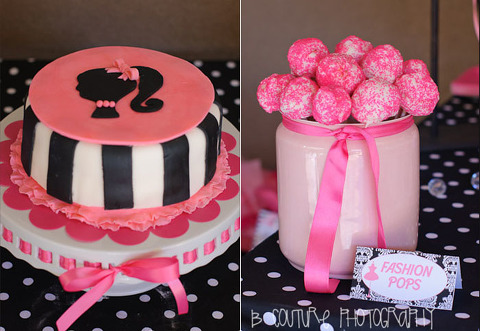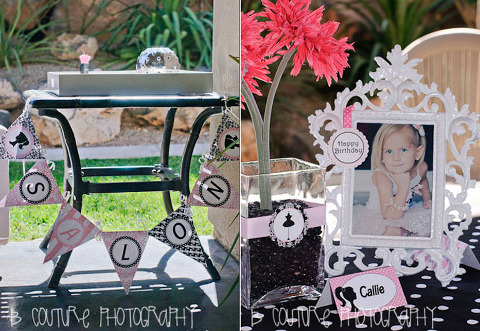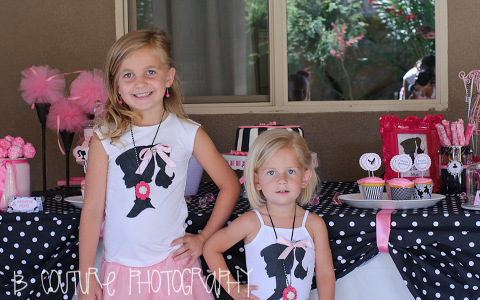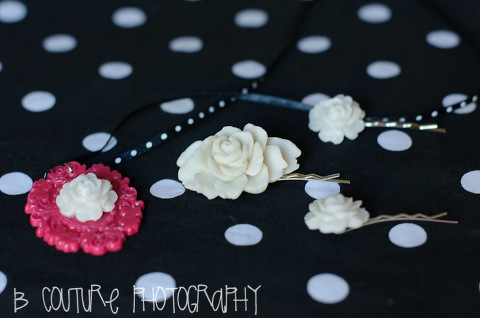 I got the adorable necklaces and flower hairpieces from The Bead Closet Boutique in St. George, Utah.  She has the most ADORABLE jewelry making beads and pendants.  They where the perfect party favors!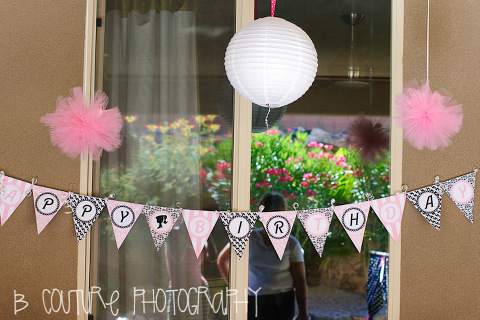 The Barbie birthday banner was the perfect touch!  I made it up in photoshop, and just printed, cut, and tied it together.  It was very easy and the perfect touch.  To share the love, I have included a link to download the banner.  You are welcome to use it for you own party!
I also made the cute little Barbie silhouette shirts for my daughters.  They where surprisingly easy, and the perfect party outfit!  Here are the instructions for making your own Barbie Silhouette Shirt…
Barbie Silhouette Shirt Instructions:
Step #1:  Trace the Silhouette Pattern (or any other design you want) onto Freezer paper.  Carefully cut it out using an Exacto Knife.
Step #2:  Iron the Freezer paper onto a clean, pre-shrunk shirt.
Step #3:  Mix Acrylic Craft paint with a Fabric Painting Medium.  Once mixed, sponge paint your cutout onto the shirt.  Be sure to use plenty of paint and paint it on very thick.
Step #4:  Let the paint fully dry.  Once the paint is dried, carefully remove the freezer paper from your shirt.
Step #5:  Add a bow or whatever detail you want!  FABULOUS!  Now you have a custom made, adorable Classic Barbie Silhouette shirt.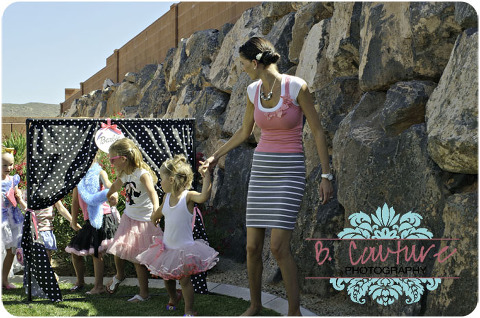 Once the girls where all made up, they walked the Cat-Walk to I'm a Barbie Girl!  It was so much fun, and a party to remember!