The time is here to book your EXCLUSIVE  CHRISTMAS MINI SESSION!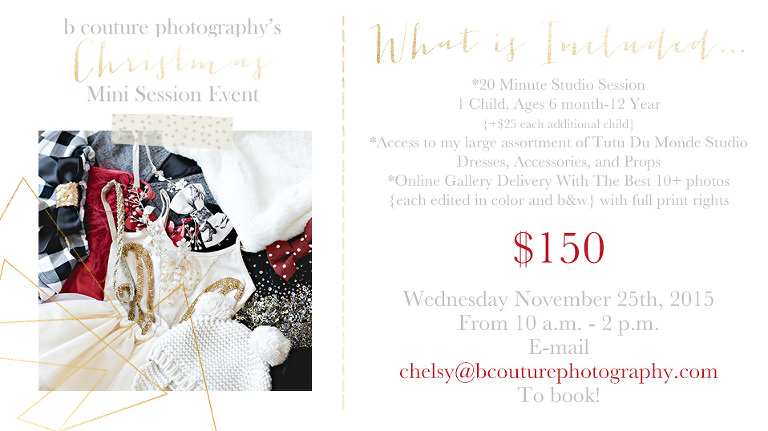 These mini sessions are for CHILDREN ONLY.  NO newborns or NO families please!  I will have a darling Restoration Hardware inspired setups with a Christmas tree, lights, and gifts.  I cannot wait to see it all come together!  I have Christmas Tutu Du Monde dresses and accessories for girls up to size 10, and baby boy outfits for boys up to size 2 for your child to wear.
I am taking a limited number of these sessions so first come first serve!  Bookings will not be finalized without a completed booking and a $50 non-refundable deposit.  Bookings can be done here
These sessions will only be offered on Wednesday, November 25th from 10:00 a.m. – 2:00 p.m..  I will post on Instagram @bcouturephoto once all openings are filled!
FIRST COME FIRST SERVE
My studio is located in Hurricane, Utah.
E-mail
chelsy@bcouturephotography.com if you have any questions!
XOXO
Chelsy B.