We are currently remodeling our house and adding on another bedroom, so it's been a crazy, messy week at my house!  I am so excited to get it done because I will now have a nice photography studio in my home…yay!  We are moving Brynlee into the new bedroom once it's finished, so it's my chance to change it up a bit!  She just got the most ADORABLE Pottery Barn Quilt that is pink, green, and aqua.  I want her room to be bright, open, and posh!  Here are some inspiration pics that I just love…
This is an adorable, simple, Bohemian styled room from Apartment Therapy.  The love the white wall, simple patterns, and laquard furnishings…perfection!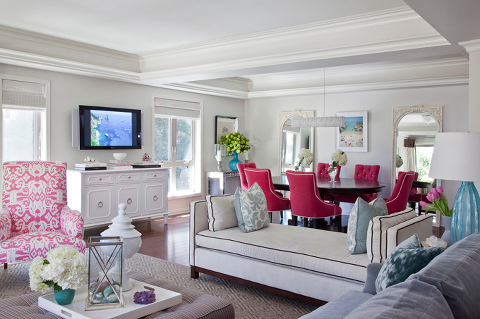 Oh how I love this room from Emily Ruddo of Armonia Decors!  This room is perfect in every way.  I love how most of the room is white, with nice bright pops of pink and turquoise.  I am in love with all things white right now!  I have been slowly adding white accents throughout my entire home, white gives your home such a fresh, clean look.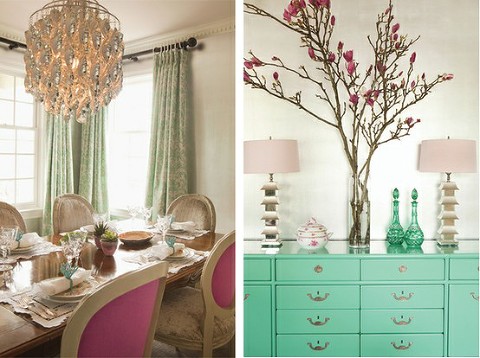 Another great room that I found on House of Turquoise.  The colors are just the colors I am looking for for Bryn's room.  Sophisticated, modern, simple, and chic all in one!
Here is another Moroccan Styled bedroom I found on Decor Pad.  Decor Pad just may be one of my favorite inspirational sites for interior designers.  It is a well organized site with a lot of different styles and pics…check it out!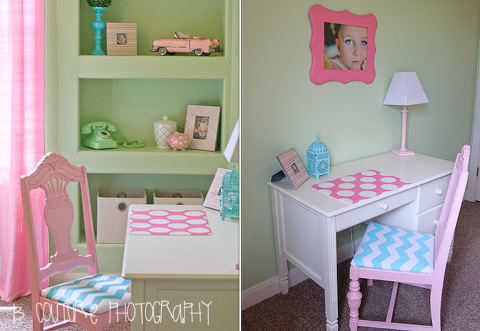 And of course, here's my favorite pink and aqua chair ever that I made for Bryn's new room!  The fabric is custom made by me, CLICK HERE for instructions on how to make your own chevron fabric.  I can't wait to finish our remodel so I can share the finished results…it's going to be FAB!