There is just something I love about the Chevron pattern…I just can't get enough!  It's simple and modern, yet vintage and exciting all wrapped up in one.  It can go with some many different design schemes, and looks great in any color.  I know, I may sound a little obsessed, but what can I say, I am just passionate about all things design!
I found this unbelievably FAB chair at a local thrift shop for only $5!  It was so perfect and such a great find that it has taken me a few weeks to decide what to do with it.  This just isn't any ordinary chair, a chair with this much character doesn't come around too often, so the results had to be perfect!
I am in the process of re-doing my almost 7 year old daughter's bedroom.  She turns 7 next month, and a fab new bedroom is all she wanted.  My juices have been flowing, and there is still a LOT to be done, but between kids, photo session, puppies, and all my other design projects, it's a work in progress.  I knew my FAB chair would be the perfect vintage touch with all her simple Pottery Barn Kids furniture…here are the results.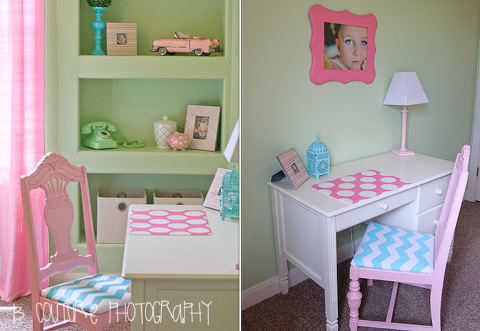 Now, I must say, I have fun plans for the lamp and a few other things, but that's for another week. 🙂  BTW…don't you just love the adorable Sweet Water Frame?
After searching the internet for the perfect fabric for the seat, I found NOTHING…SOLUTION?…make my own fabric design.  This aqua blue is a very hard color to come by, so luckily I found Acrylic paint that was the perfect color.  Here's how is was done…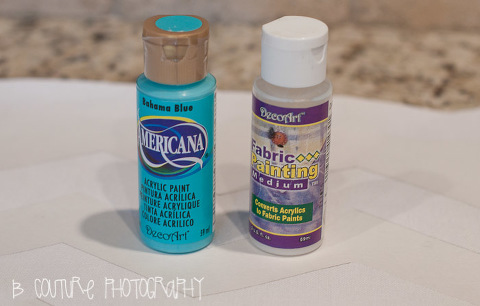 I used Acrylic paint that I found at Robert's Craft for only $2, and I mixed it with this Fabric Painting Medium so the paint would have more ply and not crack when bent or washed.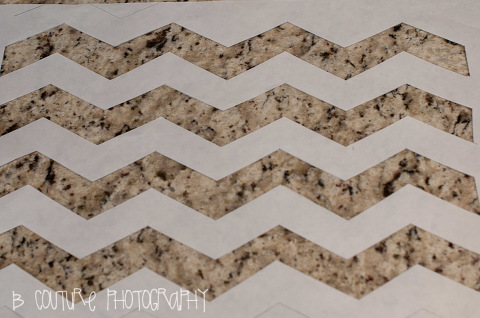 Next, I used my favorite new discovery…FREEZER PAPER.  I traced the chevron pattern on the freezer paper, and cut it out with a ruler and exacto knife.  I then ironed it onto a piece of plain white Duck Cloth Fabric. (Found at walmart for only $2.50 a yard!)  I then painted in on the fabric with a sponge brush.  Be sure to coat it very well.  I stuck it outside in the HOT 107 Degree sun, and within 10 minutes is was dry.  I then removed the  freezer paper and….WHOALA!
Here it is, my fabulous homemade chevron seat cushion.  It only too about an hour to paint the fabric, wrap the seat cushion, and attach it to my newly painted FABULOUS pink chair.  Don't you just love the color combo!?!
HERE IS SOME MORE FAB CHEVRON DESIGN INSPIRATION….
I just love the simple Chevron Art Piece above the fireplace from Made By Girl.  It's the perfect touch because it draws your attention to the center of the room without competing or overwhelming the fireplace.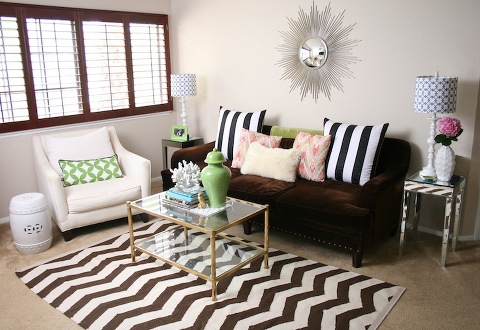 Not to mention this perfect Chevron rug from my all time favorite store West Elm.  This is an impeccable room from Bazaar of Serendipity.