I will confess, I haven't been very good about posting my weekly design inspiration lately, but it's only because my husband and I have been hard at work adding a photography studio onto my house.  Not only did we build on to the house, but I also refinished all the furnishings for my studio as well.  I have been hard at work, but the end results where well worth all the hard work!
Enjoy…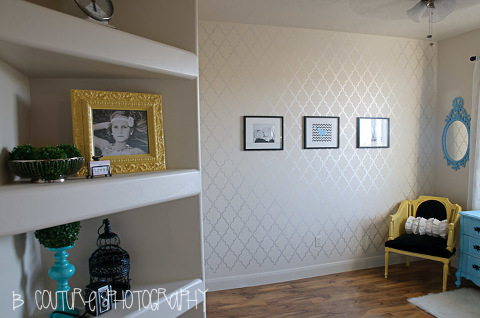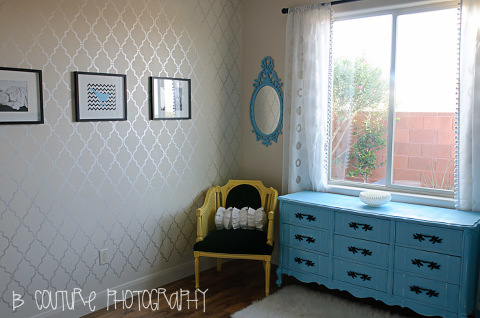 My FAVORITE part of the room just might be the ROYAL DESIGN STUDIO CASA BLANCA TRELLIS STENCIL.  I stenciled it in a subtle metallic silver glaze.  The semi-transparent metallic sheen of the stencil is perfect for this space!  It's subtle, yet it really catches your eye when you first enter the room.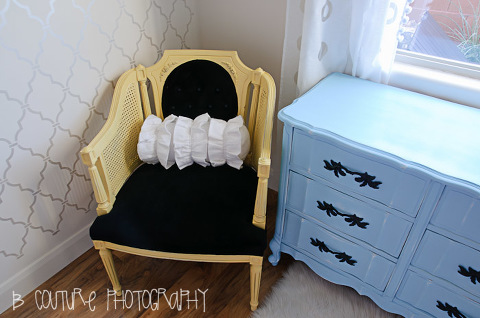 This is an old Hollywood styled chair that I found at a local Consignment shop.  It was originally brown wood with really ugly floral fabric.  I wanted to modernize the chair, yet maintain it's vintage charm.  I feel that the yellow and black color combo is classy, yet modern at the same time.  I won't lie, this chair took hours and a lot of help to transform!  One of my best friends, Rachel, helped me re-upholser it.  I couldn't have done it without her, and the results are AMAZING!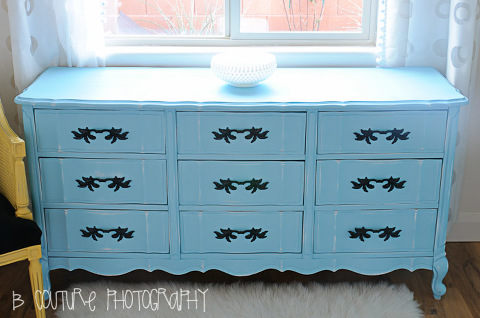 When I found this dresser at a local Antique shop, I couldn't resist!  It has so much storage for all my props and accessories.  It was originally white, and somewhat dingy.  With a little TLC and spray paint, it is now fully transformed!  My favorite part just may be the black ornate hardware!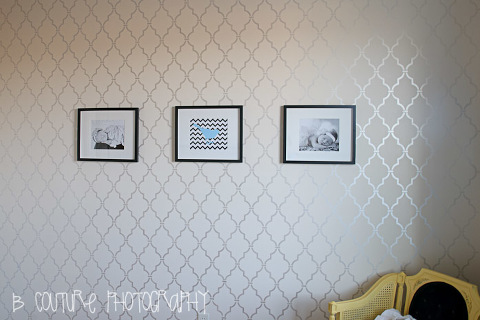 In keeping things simple, I chose to use these simple Pottery Barn black frames for my wall gallery.  They are the perfect modern touch in this vintage room.
When we framed out the room, I was adamant on having some built in shelves.  I wanted to keep the room very open so I had plenty of room for taking photos, so by doing built in shelves, it takes up less space, and they are the perfect place to display some of my favorite props!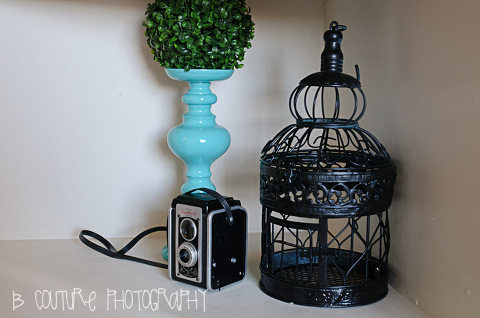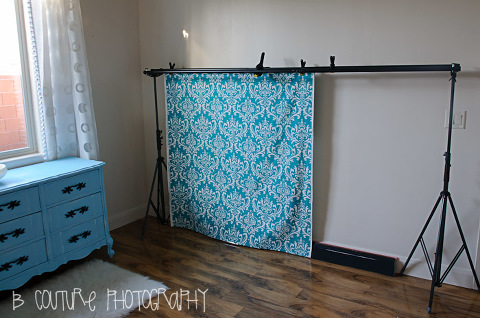 Here we have our photography backdrop wall.  I get such great lighting in this space.  With perfect window lighting and a reflector, I have been able to get STUNNING photos in my new studio!  Not to mention the gorgeous walnut flooring.  It also makes a perfect backdrop!
I hope you've been INSPIRED!  I have already had a lot of use out of my new studio, and I can't wait to continue to grow my photography business!